Investigator Torie Jumper and Sheriff Tolar spoke last Thursday to a combined group of young people, Boys & Girls Club and Youth participating in NEMCC Career Development Academy Summer Camp. We fingerprinted all the youth and provided them with an identification kit. The remaining portion of the program was spent sharing our experiences in Law Enforcement and how rewarding a career in Law Enforcement can be. We explained the requirements of getting into Law Enforcement and the different fields available on the local level. There were nine of the youth that expressed an interest in Law Enforcement as a career. The nine young men and woman were challenged by Sheriff Tolar to follow their dream, by first completing their education as well as always make good choices that will positively influence their lives. He gave each one, a Prentiss County Sheriff's Office Challenge Coin as a reminder of their commitment to becoming Law Enforcement Officer.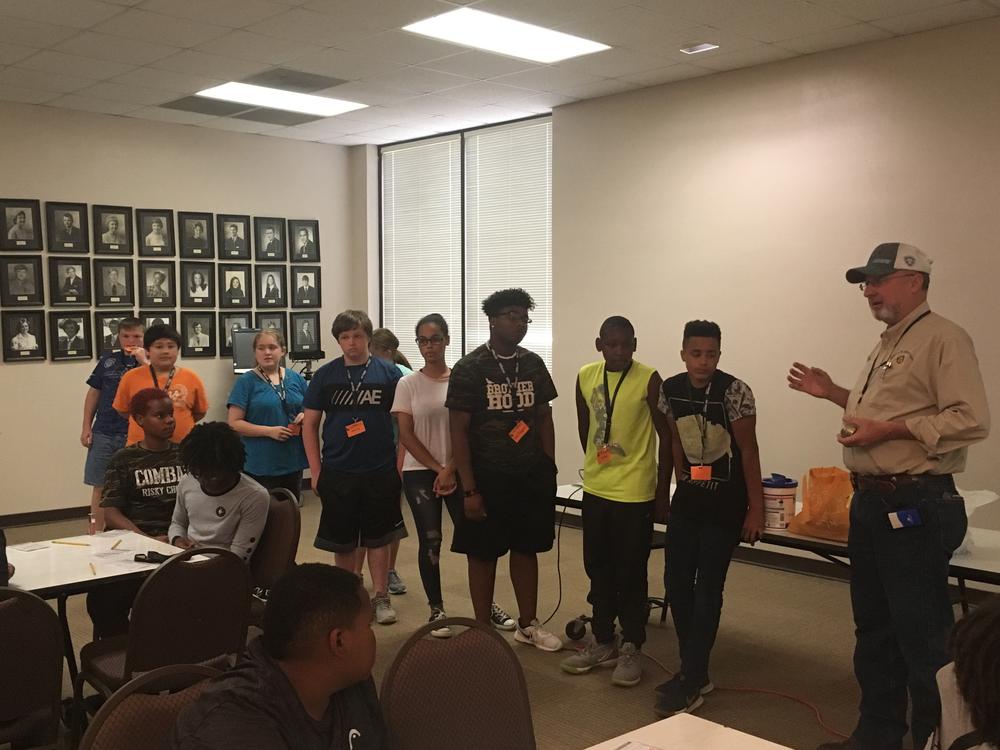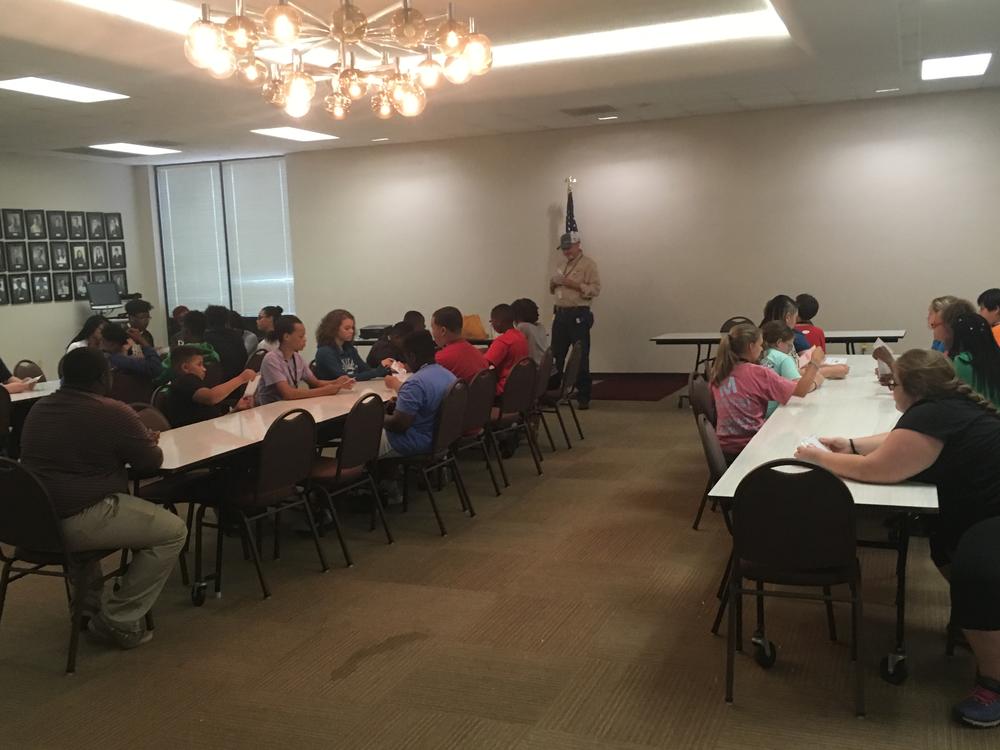 On Weds night June 20 the Youth of New Lebanon Free Will Baptist Church visited the night shift at the Prentiss County Justice Center. They brought refreshments and such to the Deputies, Booneville Police Officers, Dispatchers, Jailors and 911 Dispatchers saying thank you for your service. Deputy Brandon Slack and Investigator Wesley Graves gave the youth group a tour of the building and talked to the kids about their respective jobs and about serving others in general. We were very blessed by the groups visit.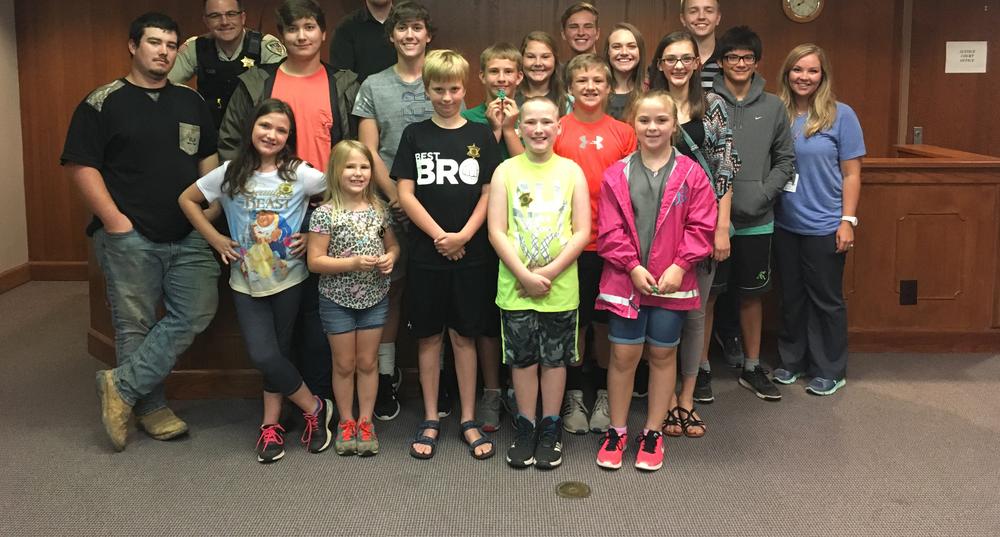 Thursday June 7th some 40 children from the Jumpertown summer after school program visited the Prentiss County Justice Center for a tour. Investigator Torie Jumper and Deputy Shane Scott spoke to the kids about law enforcement and being community helpers. The children toured the building. The kids made a poster and presented it to the department, thanking the Officers for their service

.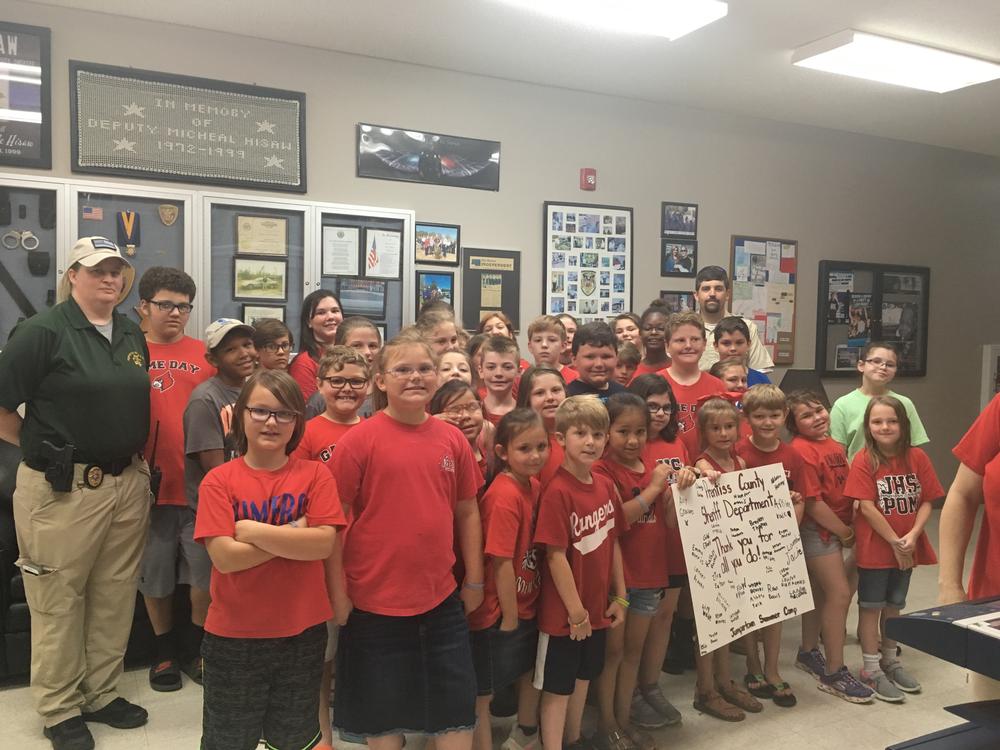 Recently Deputy Sheriff Tyler Reese was presented with an Award of Appreciation and Recognition by our local AOP Program Director. AOP is an Adolescent Offender Program which works with local youth offenders. Tyler works with this program and it's participating youth in an effort to get their lives on the right track and we appreciate all he does. The award presentation took place at Hopewell Church in Rienzi during a luncheon in which other Local Law Enforcement Officers were invited to eat and interact with the kids.
Pictured below are area youth and members of the Booneville/Prentiss County Boys and Girls Club with Prentiss County Deputies Tyler Reese and Aaron Stolz all of whom participated in Teen OP Awareness 2017 that was held at Hopewell Missionary Baptist Church in Rienzi. The Deputies spent time with the youth in an effort to establish positive relationships between our youth and Law Enforcement. The kids divided up into Basketball teams that were coached by the Deputies. This was just part of the days activities. We value our youth and want to do everything in our power to promote our area youth and ensure that they become productive citizens.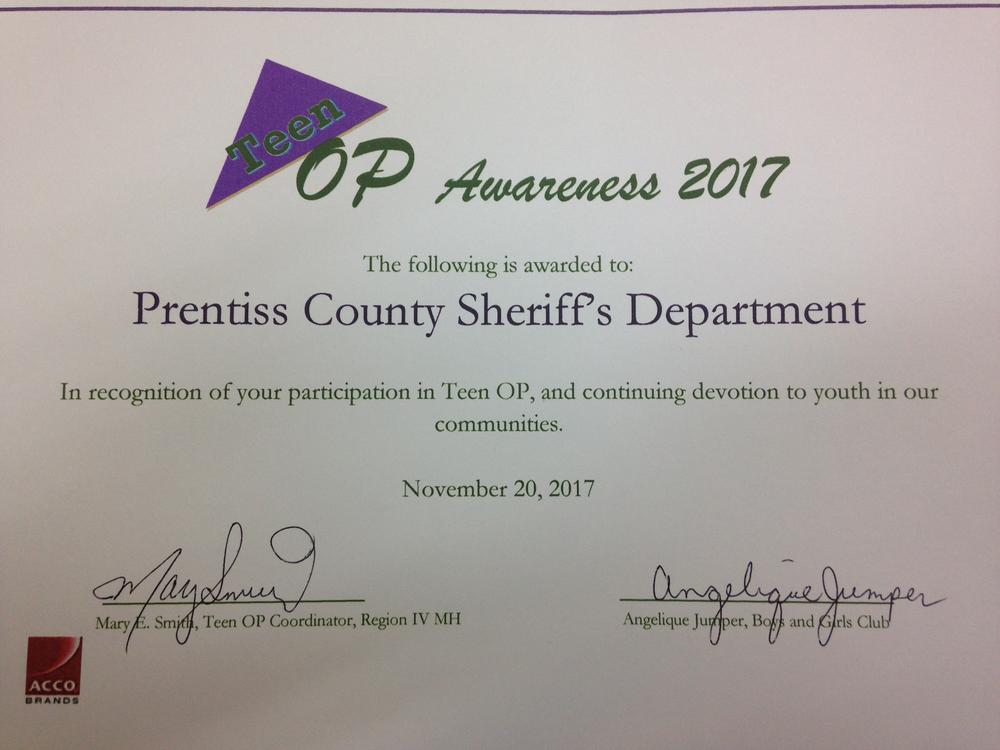 On Thursday Oct. 26th the Marietta 4th Grade visited the Prentiss County Justice Center and the Prentiss County Courthouse. Investigator Torie Jumper, Police Captain Eddie Green and Sheriff Randy Tolar talked to the children about Law Enforcement then toured the Justice Center visiting the Courtroom, 911, the Police Department, the Jail, Justice Court and the Sheriff's Department. This was a very well behaved group of kids which reflects positively on their teachers and parents. The students asked very intelligent questions when given the opportunity to ask questions about the Justice system. My staff was very impressed with the maturity of these students. Circuit Clerk Mike Kelly led the students in a tour of the Main Courthouse and Offices.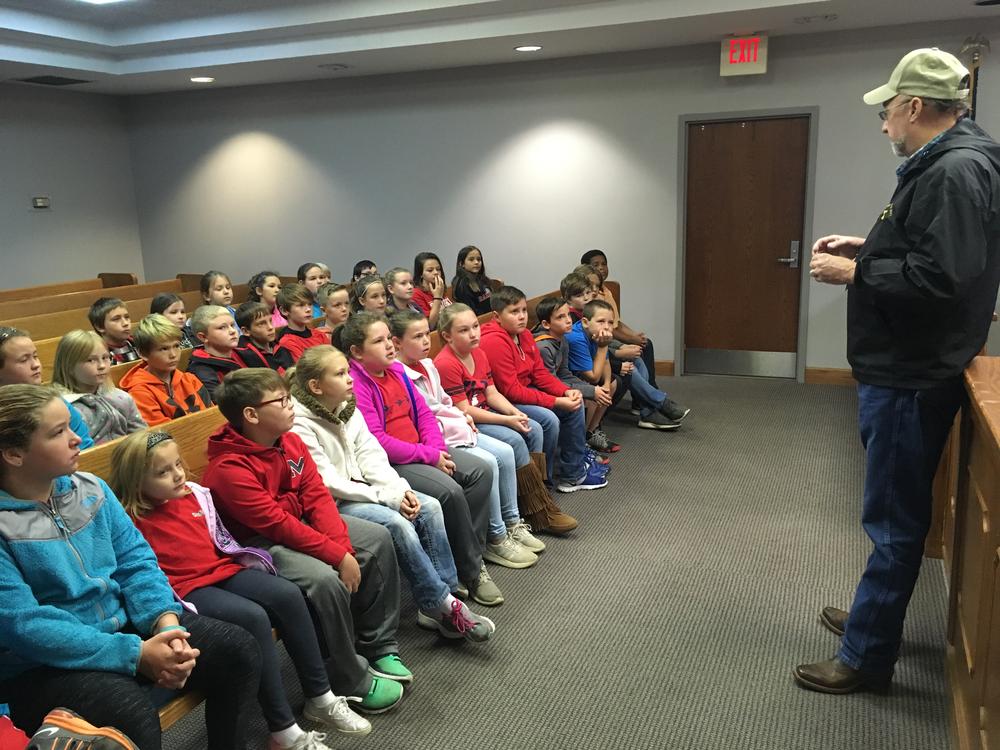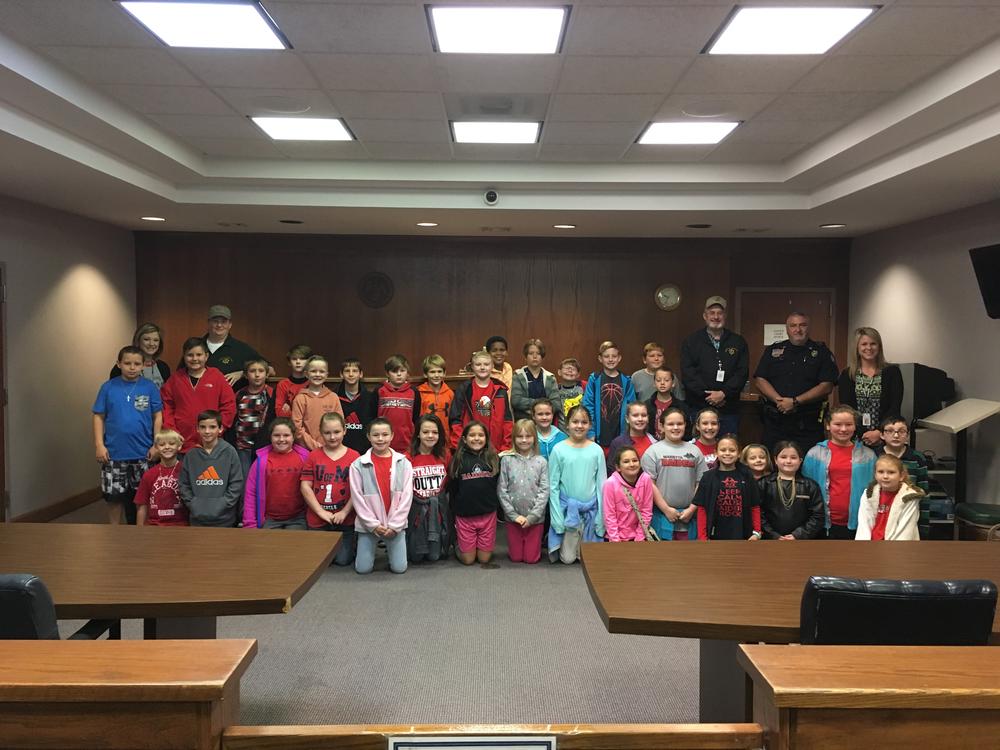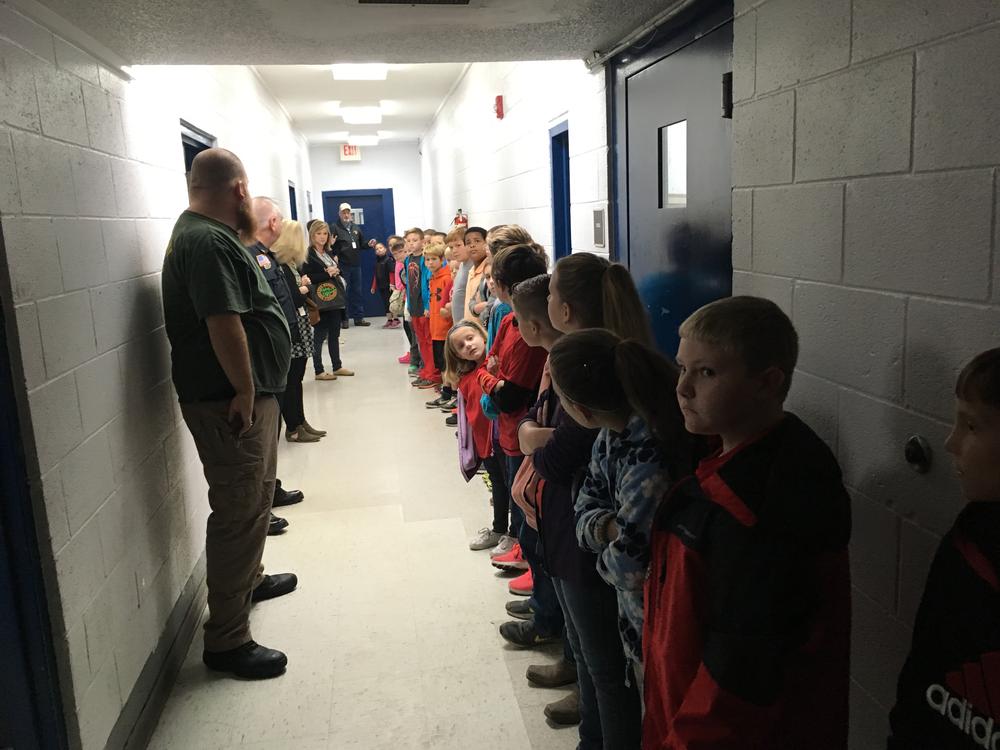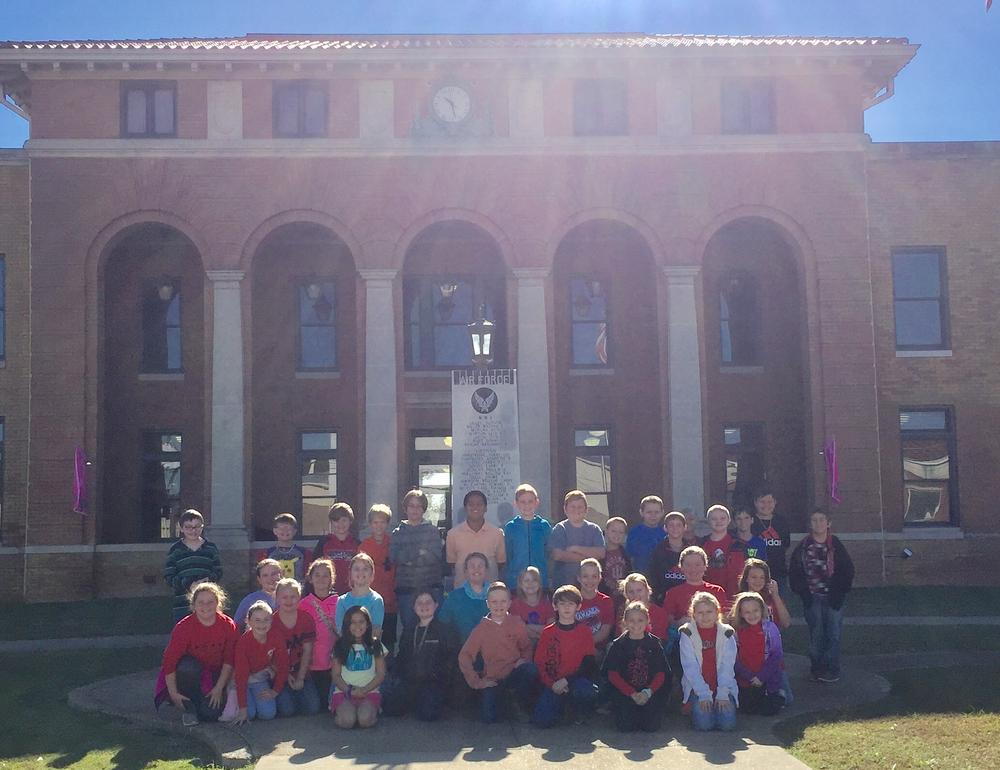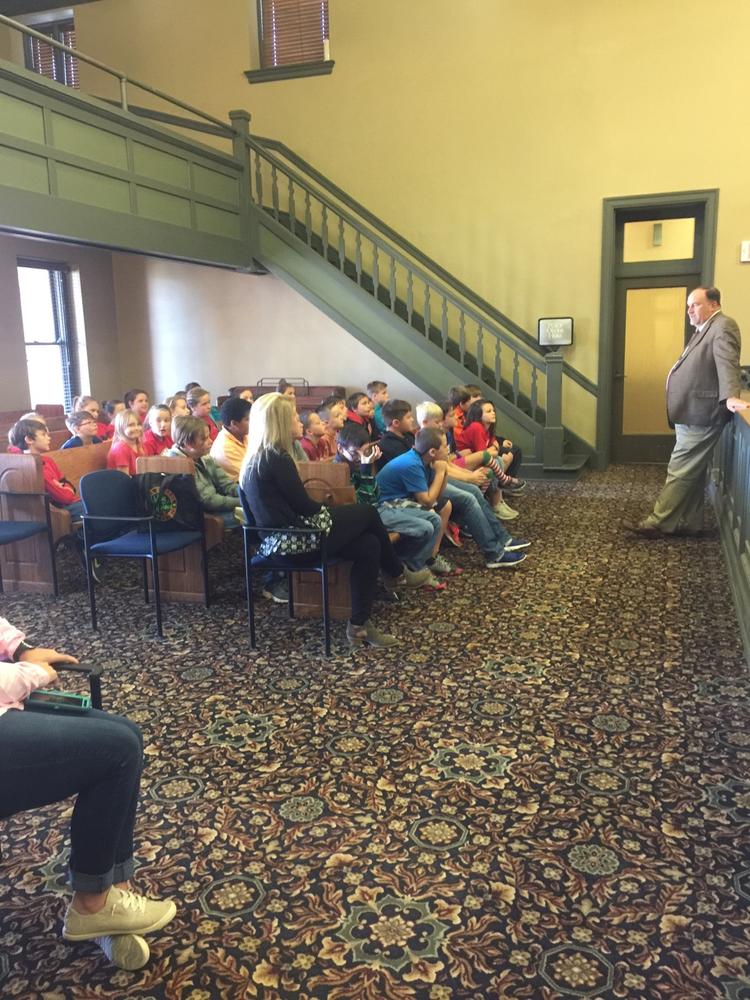 Weds Oct. 25th Prentiss County Investigator Torie Jumper and Sheriff Randy Tolar visited with the Pre K students at Jumpertown. We talked to the children about all kinds of safety hints and tips and reassured the kids that Law Enforcement Officers are their friends.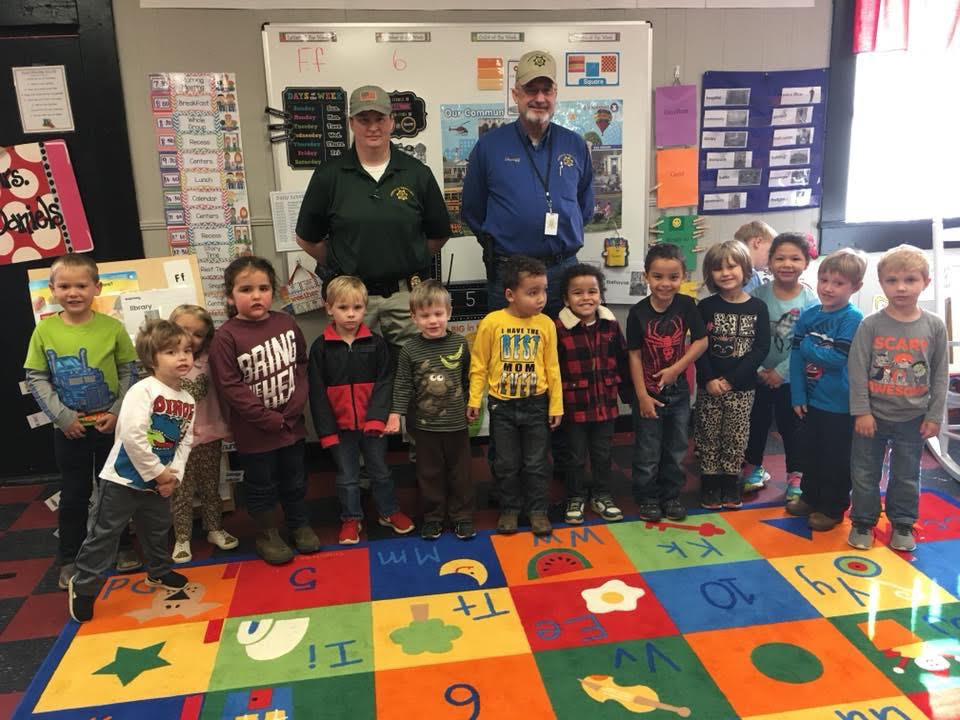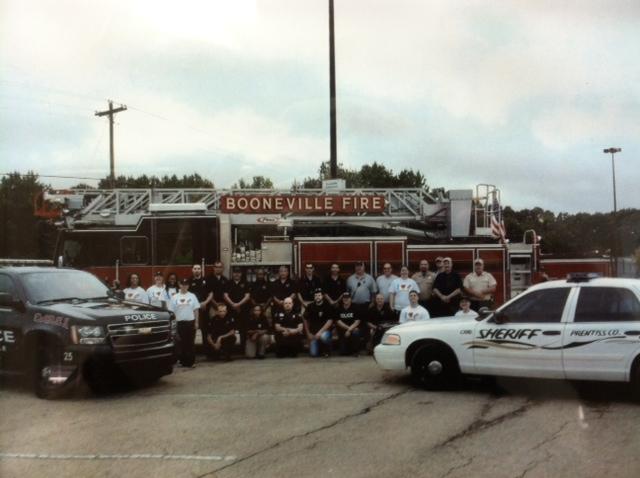 The Prentiss County Sheriff's Office and Booneville Police Department were invited by Domino's Pizza in Booneville to be a part of a their first birthday celebration to compete with the Booneville Fire Department in a number of friendly challenges, pitting Law Enforcement against Fire Department. There were several events such as Pizza Eating contest, Dough Throwing Contest, Egg Toss, Bag Toss and Tug of War. The Fire Department won, winning all bu one of the events. "We all had a great time."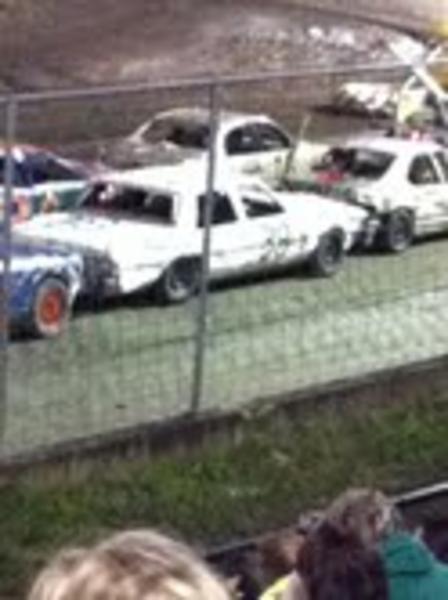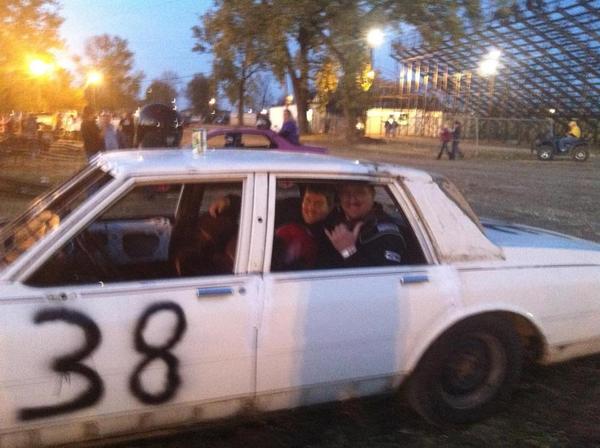 The Prentiss County Sheriff's Office recently co-sponsored an Enduro Race Team at the West Memphis Speedway. On Nov. 10th Four Prentiss County Sheriff's Deputies participated in a 200 lap Endurance Race. The rules stated that the vehicle had to be a street drivable stock automobile, car or truck. Two door car could have 2 passengers and 4 door cars could have 3 passengers and the driver. Our team consisted of Driver Reed Sparks and passengers Derrick Pruitt, Derrick Hester and Joey Clark. Our team placed fourth in the first one hundred laps netting $100 prize. We started the second one hundred laps in the fourth pole position, but was knocked out of the race after 40 additional laps after being sandwiched between two other cars and then rear ended. We plan on returning to the Dec. 15th Day Race if we can get the car back in shape.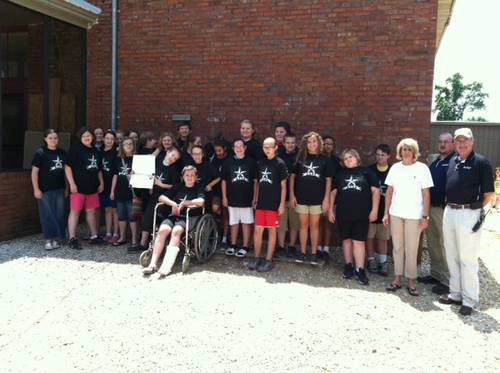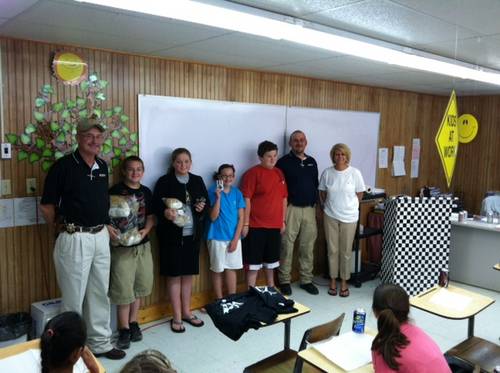 The Prentiss County Sheriff's Office celebrated the Graduation of the Jumertown DARE Class, Mrs. Roberts Class Weds. May 16th. We rewarded the students for doing such a great job by having a Pizza Party with Pizza compliments of the Pizza Inn. Several Students recieved awards for Best Essay and then Mascot Award. Thanks goes out to the Jumpertown Officals and Mrs Roberts for being so kind to allow us to teach this worthy program. Officers attending the celebration were Sheriff Randy M Tolar, Chief Deputy Derrick Pruitt, DARE instructor Sammy Henderson and Deputy Bob Tolar. The Award winners were Best Overall Bethany Marshal, Top 2 Essays Kloey Essary and Braxton Ross and the Mascot Award went to Austin Burcham.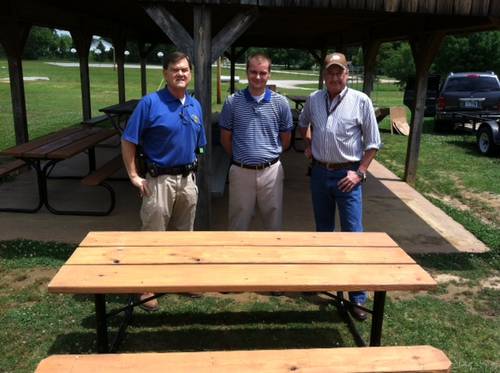 Today,05/08/2012 we returned four picnic tables to the Hills Chapel School that were in disrepair and had been refurbished by the inmates at The Prentiss County Work Center. We were at Hills Chapel School a week or so ago for the DARE Graduation and noticed several of the picnic tables were in bad shape. I asked Mr Marshal if he would let us come and get the tables and allow our inmates to fix them. The inmates did an outstanding job and are to be commended. The photo is an example of one of the four tables.
Sheriff Randy M Tolar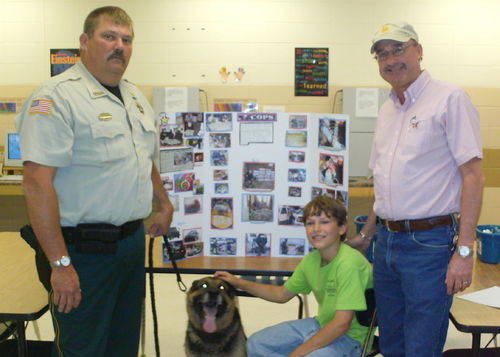 A main goal of the Prentiss County Sheriff's Office is to be a Community Oriented Policing Agency, working within every community implementing programs and projects that make our communities safer, by encouraging citizen participation.
The Prentiss County Drug Awareness Project is a program that was started in mid 2000. Members of the Sheriff's Office, DARE Program and former Drug Users go into Churches, Civic Organizations and other gatherings of people, educating them (on hands) about drugs, the effects of drugs and what to look for in our children's behavior that might be indicators that there is a drug problem.
The Prentiss County Sheriff's Office has been instrumental in linking Substance Abusers with rehabilitation services and programs in an effort to reduce the recidivism rate. A frequently used Rehabilitative Service is located in Tuscumbia Alabama called Restoration Ranch. The Sheriff has assisted numerous families find help for their loved ones at facilities such as this one. Restoration Ranch is a 10-12 month long Faith based treatment program. Restorartion Ranch is a division of Mission teen, Inc. www.missionteens.com , telephone 256-381-0930. with several other facilities under different names across the Southeast United States.
There is no charge for any part of the program. However, transportation fees will be charged for trips to the doctor, court, etc. And thse are the responsibility of the person for whom the service is rendered.
If your church or civic organization would like people from the center to come and speak, or give testimony, simply call 256-381-0930 and we would be more than happy to arrange a visit.
Prentiss County is now the hub of a very successful Drug Court. The Drug Court is an alternative to Prison, focusing on the addiction and changing lives. Circuit Judge Jim Pounds oversees the Drug Court along with his staff.



Fallen Law Enforcement




Officer Memorial Wall in




Washington DC




National Insurance
Crime Bureau
Conference Mobile
Alabama and Training

Pornography Awareness
Month


Project Lifesaver
Training at Agri Center

Prentiss County
Youth Revival 2007
Sponsored by
Prentiss County
Sheriff's Office

TRIAD Senior Citizens
Appreciation Day

TRIAD Senior Citizens
Appreciation Day Annual
Event

Wheeler Headstart

Thrasher Drunk and
impaired Driving
Presentation

Fingerprinting Student

Wheeler DARE Graduates
Award Winners

Wheeler and deputy
Torie Jumper

Baldwyn First Baptist
Church

Prospect Church Wheeler

Wheeler School

Mt Olive Church

Departmental Firearms
Qualifications

Bob Tolar and
Kim Pruitt place at
the Fall Festival 5K Run

Baldwyn National Night
Out Sheriff Tolar/ Sheriff Jim
Johnson working together

Boy Scout Troop

Michael Hisaw Memorial
Tree Planting 2011

Pisgah Headstart

Wheeler Headstart
Fingerprinting

Marietta School

Goodfellows Program Food
Box distribution 2008

Crimestoppers

Demostration with
Drug Dog

Homer Stevens Officer
of the Year Award

Hisaw Memorial

Ingram Baptist Church



Crimestoppers Officer




of the Year Award


5K Run Fall Festival